Day 3 :
Keynote Forum
University of Bradford, UK
Time : 10:00-10:30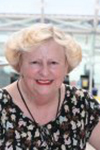 Biography:
Diana Anderson completed her PhD at the University of Manchester, UK in the Faculty of Medicine. She is the Established Chair in Biomedical Sciences at the University of Bradford. She has published more than 450 papers, 9 books, successfully supervised 30 PhD students. She has a Hirsch factor of 54. She is Editor -in-Chief of a Book Series for the Royal Society of Chemistry and is Consultant to many International Organisations, such as the World Health Organisation/International Programme of Chemical Safety. She has been the Editorial Board Member of ten international journals.
Abstract:
Studies in the 1960s and '70s identified at which stages of the spermatogenic cycle a chemical being examined was most effective in producing genotoxic damage and helped in the understanding of its mechanism of action. The expense of carrying out in vivo assays and the ethical issues involved means that there is a constant need for the development of novel in vitro assays that allow detection of individual germ cell types. Examining germline genotoxicity in the male is generally undertaken in vivo partly because of the difficulty of achieving full spermatogenesis in vitro and partly because mating studies are currently the only reliable way of determining heritable effects. An in vitro assay should have high sensitivity and be suitable
for screening large chemical numbers. Therefore, Staput velocity sedimentation followed by culture of specific rodent cells has been developed for use in such a system. Immunohistochemistry is used to assess the specificity of the separation of the Staput system in identifying the spermatogonia, spermatocytes and spermatids. These three germ cell categories contain the three major events in spermatogenesis: mitotic proliferation, meiosis and spermiogenic differentiation respectively and make suitable groupings for toxicity analysis. It is also possible to consider the early germ stem cells in such a system. DNA damage can be assessed by the Comet assay and apoptosis by the TUNEL assay. We have examined different chemicals in such systems also using gene expression and will discuss the significance of the findings which could significantly reduce animal numbers.