Day 3 :
Keynote Forum
University of Bradford, UK
Time : 10:00-10:30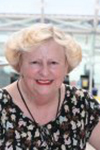 Biography:
Diana Anderson completed her PhD at the University of Manchester, UK in the Faculty of Medicine. She is the Established Chair in Biomedical Sciences at the University of Bradford. She has published more than 450 papers, 9 books, successfully supervised 30 PhD students. She has a Hirsch factor of 54. She is Editor -in-Chief of a Book Series for the Royal Society of Chemistry and is Consultant to many International Organisations, such as the World Health Organisation/International Programme of Chemical Safety. She has been the Editorial Board Member of ten international journals.
Abstract:
Studies in the 1960s and '70s identified at which stages of the spermatogenic cycle a chemical being examined was most effective in producing genotoxic damage and helped in the understanding of its mechanism of action. The expense of carrying out in vivo assays and the ethical issues involved means that there is a constant need for the development of novel in vitro assays that allow detection of individual germ cell types. Examining germline genotoxicity in the male is generally undertaken in vivo partly because of the difficulty of achieving full spermatogenesis in vitro and partly because mating studies are currently the only reliable way of determining heritable effects. An in vitro assay should have high sensitivity and be suitable
for screening large chemical numbers. Therefore, Staput velocity sedimentation followed by culture of specific rodent cells has been developed for use in such a system. Immunohistochemistry is used to assess the specificity of the separation of the Staput system in identifying the spermatogonia, spermatocytes and spermatids. These three germ cell categories contain the three major events in spermatogenesis: mitotic proliferation, meiosis and spermiogenic differentiation respectively and make suitable groupings for toxicity analysis. It is also possible to consider the early germ stem cells in such a system. DNA damage can be assessed by the Comet assay and apoptosis by the TUNEL assay. We have examined different chemicals in such systems also using gene expression and will discuss the significance of the findings which could significantly reduce animal numbers.
Stem Cells | Stem Cell Thearpy | Novel Stem Cell Technologies | Tissue Engineering | Gene Thearpy and Stem Cells
Session Introduction
Kuwait University, Kuwait
Biography:
Abstract:
The subgranular zone in the hippocampus and walls of the lateral ventricles are the established adult neurogenic niches in rat. Investigations on the occurrence of other adult neurogenic niches are being carried out in several laboratories. Recent studies from our laboratory showed that ependymal surface of the cerebral ventricles could be another neurogenic niche in the adult rat brain. Ependymal lining of cerebral ventricles lies at the interface between the ventricular cavities and the brain parenchyma. At several locations, at the ventricular surface, single and cluster of supraependymal structures consisting of neurons, axons and glial cells were observed. These supraependymal structures are immersed in the cerebrospinal fluid and enjoy a unique environment which is different from other regions of the mammalian brain. Transmission and scanning electron microscopic studies showed an extensive growth of the axons on the ventricular surface following axotomy of the supraependymal fibers. Interestigly, scanning electron microscopic studies showed a profound increase in the number of supraependymal neurons on the surface of the third ventricle following unilateral cervical sympathectomy. This increase was much larger at fifteen days following unilateral cervical sympathectomy as compared to that observed after seven days after unilateral cervical sympathectomy. From these studies, it can be concluded that supraependymal elements of the ventricular floor may represent a novel niche of neural stem cells in the adult mammalian brain that proliferate and differentiate in response to changes in sympathetic activity.
University Medial Center Mainz, Germany
Biography:
Abstract:
Therapy resistance and inevitable post-treatment recurrence poses a persistant challenge for treating glioblastomas (GB). Recent advances in massively parallel sequencing have allowed to compare molecular landscapes between newly diagnosed and recurrent GBs. Previous studies have revealed that post-treatment recurrence in GBs is frequently accompanied by molecular drifts
manifest by considerable differences in the levels and spectrum of genomic aberrations, gene expression patterns and epigenetic profiles. The emergence of this fundamental trait necessitates in-depth investigations into the mechanisms that underlie changes in molecular patterns after (or during) therapy. The proposed project aims to elucidate the role of glioma stem cells implicated as a key driver of post-treatment recurrence in gliomas and the most clinically relevant type of glioma cells possessing both an inherent and acquired cytotoxic resistance. Up till now, genome-wide comparisons between untreated and recurrent GB have been exclusively performed on heterogeneous GB tissues with undefined proportions of glioma stem cells. In this study, a comparative analysis of gene expression landscapes was conducted in glioma stem cells isolated from patient-matched newly diagnosed and recurrent GB or
by using experimental models of radio/chemoresistant glioma stem cells. The main novelty of the proposed project lies in its focus on the specific contribution of glioma stem cells to GB recurrence under cytotoxic therapy. To our knowledge, this is the first study to address individual impacts of clinically relevant regimens of radiation and chemotherapy on gene expression patterns in glioma stem cells.
Biography:
Abstract:
Pancreatic β-cells are the predominant insulin producing cell types, within the Islets of Langerhans and insulin is the primary hormone which regulates carbohydrate and fat metabolism. Apoptosis of β-cells or insufficient insulin production leads to Diabetes Miletus (DM). Current therapy for diabetes includes either medical management or insulin replacement. Cell based therapies are being developed as a possible therapeutic option for Diabetes. Replacement of β- cells is an attractive treatment option for both Type-1 and Type-2 DM in view of the recent paper which indicates that β-cell apoptosis is the common underlying cause for both types of DM. In the present study, Human Umbilical Cord (HUC) samples were obtained after delivery with prior informed consent as approved by the Institutional Ethical Committee. Mesenchymal Stem Cells (MSCs) were successfully isolated from HUC (n=26)using a combination of mechanical and enzymatic, Collagenase-II treatment. Culturing in-vitro was done in L-DMEM with 10% FBS and 5% CO2 at 37oC. Cultured cells were characterized as MSC with flow-cytometry after reaching 80-90% confluency as they were CD90+, CD73+, CD105+, CD34-, CD45, HLA-DR-/Low and vimentin+ (Immunohistochemistry). These were differentiated to β-cells in 15 days using H-DMEM (Gibco), β-Mercaptoethanol (0.1mM, HiMedia), basic-fibroblast growth factor (10μg/L, Gibco) and Nicotinamide (10mmol/L HiMedia). Differentiated cells stained positive for Dithizone, a specific marker for pancreatic beta cells and their functionality was evaluated by insulin production with glucose stimulation (50mM/L). Amount of insulin released was four-fold higher when stimulated (8 IU/ml) compared with unstimulated (2 IU/ml) this is extremely promising for β-cell replacement therapy in diabetics.
Iran University of Medical Science, Iran
Biography:
Maliheh Nobakht is a full Professor of Medical Histology and Embryology in Iran University of Medical Sciences. She is a board certified Histologist and Embryologist and is engaged in education and is a basic Science Scientist known an Investigator at Iran University. She has expertise in wound healing and stem cell biology, scaffold and Neuroscience. She graduated from Tehran University in 1985, with a Bachelor of Science degree in Biology. Then, she received Master of Science degree on Histology and Embryology in 1987. She received her PhD degree from Tarbiat Modarres University on Histology in 1992. Subsequently, in 1994, she completed her Post-doctoral training in Molecular Biology and Electron Microscopy under supervision of Professor Leblond and Dr. Lee at McGill University and Shriner's Hospital in Montreal, Quebec, Canada. She became a full Professor in Histology Medicine in 2011 and at the same time, she was appointed to be the Co-director of the vice of education.
Abstract:
Background: Tissue engineering is a new approach to reconstruction and/or regeneration of lost or damaged tissue. The purpose of this study was to fabricate the polycaprolactone (PCL) random nanofiber scaffold as well as evaluation of the cell viability, adhesion, and proliferation of rat nestin‑positive hair follicle stem cells (HFSCs) in the graft material using electrospun PCL nanofiber scaffold in regeneration medicine. Materials & Methods: The bulge HFSCs was isolated from rat whiskers and cultivated in Dulbecco's modified Eagle's medium/F12. To evaluate the biological nature of the bulge stem cells, flow cytometry using nestin, CD34 and K15 antibodies was performed.
Electrospinning was used for the production of PCL nanofiber scaffolds. Furthermore, scanning electron microscopy (SEM) for HFSCs attachment, infiltration, and morphology, 3‑(4, 5‑di‑methylthiazol‑2‑yl)‑2, 5‑diphenyltetrazolium bromide (MTT) assay for cell viability and cytotoxicity, tensile strength of the scaffolds mesh and histology analysis were used.
Results: Flow cytometry showed that HFSCs were nestin and CD34 positive but K15 negative. The results of the MTT assay showed cell viability and cell proliferation of the HFSCs on PCL nanofiber scaffolds. SEM microscopy photographs indicated that HFSCs are attached and spread on PCL nanofiber scaffolds. Furthermore, tensile strength of the scaffolds mesh was measured.
Conclusion: The results of this study revealed that modified PCL nanofiber scaffolds are suitable for HFSCs seeding attachment and proliferation. Furthermore, HFSCs are attached and proliferated on PCL nanofibers scaffolds.
Biography:
Mohamed Gamal El-Beltagy fifth year student at Faculty of Dentistry, Mansoura University, Egypt. I works as a Research Assistant in Mansoura Medical Research Center (MERC) in Faculty of Medicine, Mansoura University and I am a Director on a project entitled "Dental Pulp Stem Cell Banking" funded by the Ministry of Higher Education in Egypt under supervision of Professor Youssry elhawary I have an abstract conference publication entitled: Dental pulp stem cell isolation, tissue culture, characterization and cryopreservation from human tooth published Journal of Stem Cell Research & Therapy at 7th Annual Conference on Stem Cell and Regenerative Medicine August 04-05, 2016 Manchester, UK also I won the best poster award at the conference.
Abstract:
Human dental pulp represents a suitable alternative source of stem cells for the purpose of cell-based therapies in regenerative medicine. Spinal cord injuries at the cervical (neck) level result in full or partial tetraplegia ,low heart rate, low blood pressure, problems in regulating body temperature, and breathing dysfunction. We aim to recommend the best cell population and the best cell transplant criteria to treat cervical spinal cord injury. In this study we successfully isolate CD 24 positive cells from human dental apical papilla from impacted third molar of patient female 15 years using two different techniques enzymatic digestion using Collagenase 3 mg/ml / Dispase 4 mg/ml enzymes also with explant outgrowth method. Characterization done by using flowcytometry cell sorting and we confirm the viability of the sorted cells using trypan blue stain. Interestingly, despite the sorted cells was express
a limited present in the cell population only 5.9% but after culturing in Proliferation Media (PM): DMEM/F12 supplemented with 10% FBS, 100 μM L-ascorbic acid 2-phosphate, 2 mM L-glutamine, 100 units/ml penicillin, 100 mg/ml streptomycin, they give a high proliferation rate. The teeth of the study opened using Hand-held dental pulp isolator device Patent (WO 2016162041 A9). Based on the role of ENTPD1 gene in development of central nervous system during embryogenesis, hydrolyze ATP and other nucleotides to regulate purinergic neurotransmission, anti-inflammatory effect TNF-α-induced cytotoxicity and cell death also its high expression in dental derived stem cells so in the next steps we will compare between seven sub- populations CD24, CD39 (ENTPD1), CD90, CD73, CD105, Nestin and SSEA-3 positive cells from different dental sources as apical papilla, dental follicle and dental pulp of
human tooth. Moreover we will compare between whether cell transplant or whole tissue transplant of the dental pulp in spinal cord injury in sprague dawely rats is more effective. Regarding tissue transplant we will compare between graphene nano-scaffold with and without hydrogel, carbon nano-tubes and high or low porosity PCL Poly (ε-caprolactone) scaffolds and test the Adhesion, Cytotoxicity, Proliferation and neuron-differentiation capacities of the cells or the dental pulp tissue.
Iran University of medical sciences, Iran
Biography:
Mohammadhadi Fartookzade has MSc degree in MBA and BSc degree in Microbiology. He is the Technician in Electron Microscope Unit. He is working in Iran University of Medical Sciences.
Abstract:
Neural stem cells (NSCs) as a heterogeneous multi-potent and self-renewal population find in the different areas in the developing mammalian nervous system, as well as the sub-ventricular zone (SVZ) and the hippocampus of the adult brain. NSCs can give rise to neurons, astrocytes and oligodendrocytes. Much evidence has accumulated for interactions between the noradrenergic-LC
(NA-LC) system and structures involved in sleep regulation. Locus Ceoruleus (LC) plays an important role in the sleep-wake cycle. Noradrenergic cells in LC participate in the process of cortical activation and behavioral arousal. The aim of this investigation was study of effect of Neural Stem Cells (NSCs) transplantation on the sleep-wake cycle after bilateral lesion of the locus coeruleus in the rat. Fourty-two adult male Wistar rats weighing between 250-275 g, obtained from Pasteur Institute of Tehran, were used as subjects. The rats were categorized in seven groups [Control, Sham (cannula implantation), lesion, experimental 1 (intravenous transplantation of NSCs), experimental 2 (intravenous transplantation of noradrenergic-like cells (NACs), experimental 3
(intraventricular transplantation of NSCs), experimental 4 (intraventricular transplantation of NACs)]. Neural stem cells were harvested from SVZ of newborn rat brains. The cells were cultured in DMEM F12, B-27 supplemented with 20ng/ml (hFGF) and 20ng/ml (EGF) for 2 weeks. NSCs were differentiated in neurobasal medium, B-27 supplemented with BDNF (50 ng/ml) and GDNF (30 ng/ml) for 3 and 5 days. The animals received bilateral 6-hydroxydopamine (6-OHDA) [2μg/0.5μl in 0.1% ascorbic acid and 0.9% saline solution] lesion of the LC. For sleep-wake recording 3 EEG and 2 EMG electrodes were implanted respectively in the skull and dorsal neck muscle. After 7 weeks, following being anesthetized, brains were cut in 7μm serial sections and stained with cresyl violet. Cavity volume was evaluated through the stereological technique. In this study Nestin and Sox2 were expressed in
NSCs and neurospheres. NSCs were differentiated into noradrenergic-like cells (NACs) and Tyrosine hydroxylase was detected in these cells. Cavity volume caused by lesion was restricted to LC. A significant decrease (P≤0.05) was seen in NREM (Non Rapid Eye Movement) and PS (Paradoxical Sleep) stages and a significant increase (P≤0.05) were seen in wake and PS-A (Paradoxical Sleep without Atonia) in lesion group in comparison with control and sham groups. There was not significant differences in Wake, NREM, PS, PS-A between experimental groups. NSCs transplantation in experimental groups prevented of decrease in PS and increase in PS-A, So that a significant increase in PS and a significant decrease in PS-A in comparison with lesion group were seen in experimental groups (P≤0.05). The results of this study demonstrate NSCs have ability to differentiate into noradrenergic cells using of BDNF and
GDNF growth factors and NSCs transplantation improved disruption of the sleep-wake cycle after bilateral lesion of LC.